Things to do
1. The Tyne Bridges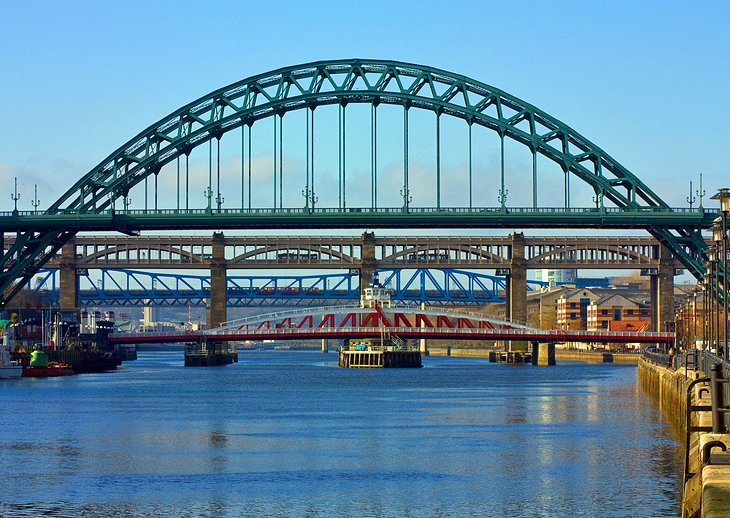 Seven bridges span the River Tyne in and around Newcastle, three of them famous internationally for the revolutionary approach to bridge building that they enshrined.
The oldest is the High Level Bridge, a two-level steel structure almost 165 feet high and built to plans drawn up in 1849 by Robert Stephenson and opened by Queen Victoria. The Swing Bridge, designed by Sir W. G. Armstrong and opened in 1876, stands on the same site as the "Pons Aelius" fort built by the Romans.
However, the bridge that most symbolizes the city's identity is the Tyne Bridge, begun in 1925 and opened by King George V in 1928, with what was at that time the largest arch of any bridge in the world.
Also worth mentioning: Crossing the spectacular Gateshead Millennium Bridge on foot (or on bike) is one of the top things for visitors to do when visiting the Newcastle area.
2. Historic Quayside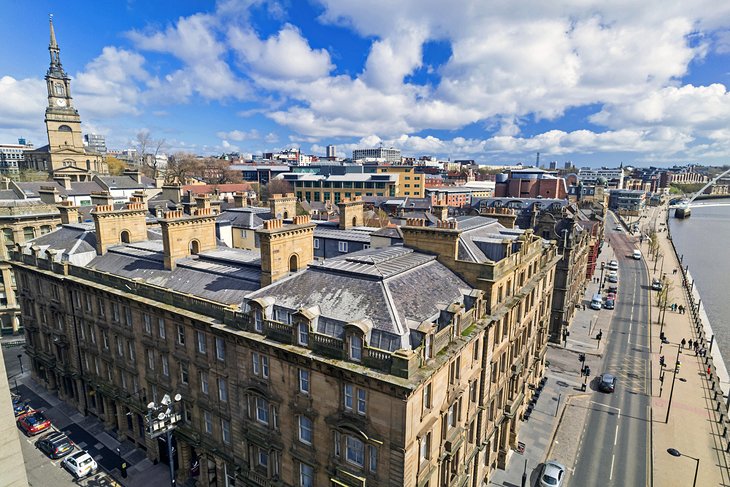 The Quayside district around the Tyne and High Level Bridges has been redeveloped, and many of the old houses are now hotels, shops, and restaurants. On Sandhill, a number of historic buildings can be seen, including the Guildhall, built in 1658, and the Merchants' Court. The lovingly restored Bessie Surtees House consists of two merchant's houses dating from the 16th and 17th centuries with a restored Jacobean facade.
A fascinating underground tourist attraction is the 2.5-mile-long Victoria Tunnel, running beneath the city from the Town Moor down to the Tyne. The tunnel opened in 1842 as a wagonway to transport coal from the colliery to riverside jetties, and a large section can be seen by guided tour (be sure to book in advance).
If traveling with youngsters visit the inspirational Seven Stories, a center for original manuscripts and illustrations from some of Britain's best-loved children's authors. Another nearby attraction for kids is the Life Science Centre,with its thrilling planetarium, live theater, and hands-on displays.
Location: Quayside, Newcastle-upon-Tyne
3. Newcastle Castle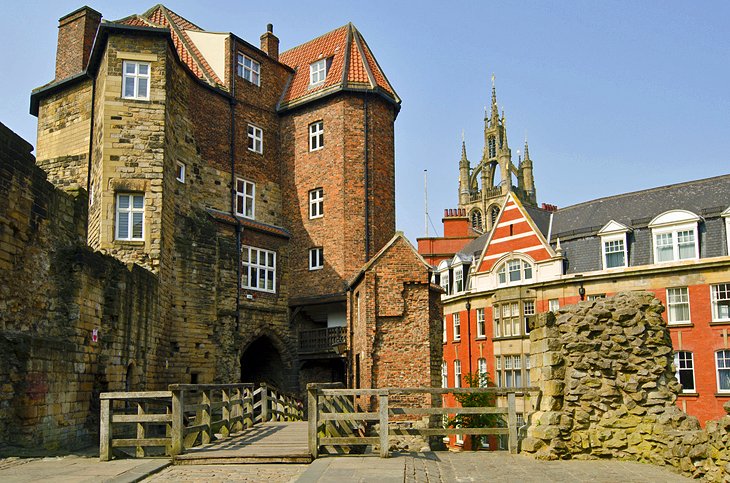 North of Newcastle's High Level Bridge on St. Nicholas Street, the well-preserved Norman fortified tower bears testimony to the "New Castle" begun in 1080 and completed in 1172. The late Norman Chapel and the King's Chamber can be visited as you explore the castle's many old passages and medieval chambers. Along the way, you'll find fascinating displays of archaeological artifacts, while the tower offers excellent views over the city.
Although separated from Castle Keep by a train line, the gatehouse (the Black Gate) was built in 1247 and is also worth exploring. Guided tours, including a chance to visit both structures, are available (if possible, try to plan your visit to coincide with one of the castle's many fun themed seasonal events).
Address: Castle Garth, Newcastle-upon-Tyne
Official site: www.newcastlecastle.co.uk
4. Newcastle Cathedral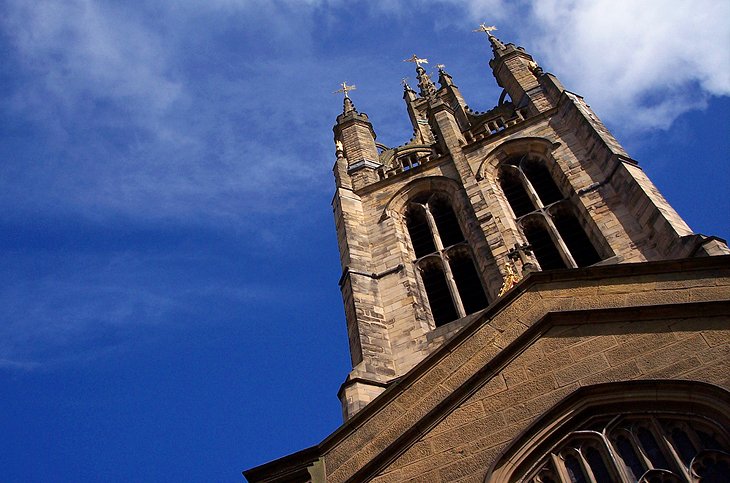 Built in the 14th and 15th centuries, Newcastle Cathedral-The Cathedral Church of St. Nicholas-is not especially large, having only been elevated from the status of parish church to cathedral in 1882. Its most striking feature, though, is its lantern tower. Standing almost 197 feet tall, it was built in 1435 and is topped by a lovely crenellated Scottish Crown. At night, the spire is floodlit to impressive effect.
Interior highlights include the canopied font and lectern (both dating from 1500), the organ (1676), and numerous fine statues dating from 15th to 20th centuries. A pleasant café is also located on-site. Outside, the statue of Queen Victoria in St. Nicholas Square was the work of Sir Alfred Gilbert (1900). Admission to the cathedral is free, making it one of the top things to do for free in Newcastle.
Address: St. Nicholas Square, Newcastle-upon-Tyne
Official site: http://stnicholascathedral.co.uk/
5. The Old City Chares
To the east of the Tyne Bridge is one of the oldest parts of Newcastle, the Chares. This series of well-preserved, narrow medieval alleyways and lanes, with their stepped pathways, are endless fun to explore, including Breakneck Stairs, Long Stairs, and Castle Stairs, the latter leading to Castle Keep and the Black Gate.
Along the way, you'll find newer (yet still historic) architectural delights, including the Custom House (1766) and Trinity House (1721). A number fo great restaurants and shopping opportunities have also spring up in the area, adding even more reasons to linger here.
Also of interest is the splendid All Saints Church. Built in Neoclassical style by David Stephenson in the 18th century above the tomb of Roger Thornton (d. 1429) and his wife (d. 1411), this catholic church possesses a great deal of elaborate mahogany woodwork along with what is believed to be the largest brass in England.
Address: Akenside Hill, Newcastle-upon-Tyne
6. Grainger Town and Grey's Monument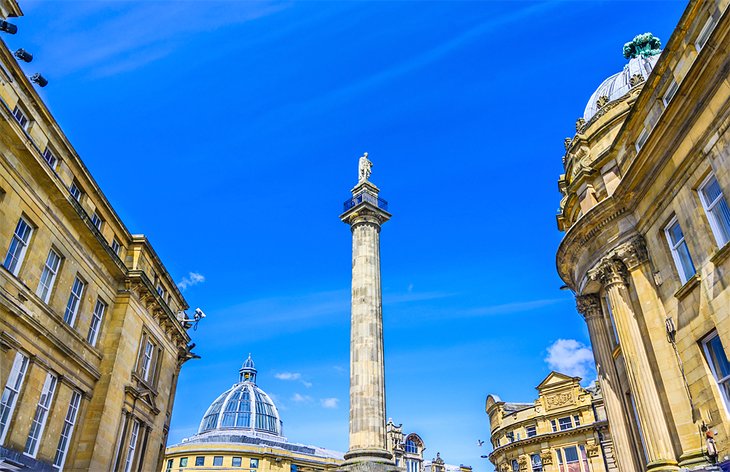 At the north end of Grey Street stands the 135-foot-high Grey's Monument, a favorite meeting place in the heart of the city. Built in 1835 in memory of the second Earl Grey, it commemorates his role as Prime Minister and architect of the 1832 Reform Bill. The column's viewing platform-a 164-step climb and only occasionally open to the public - boasts superb views of the city.
Grainger Street, which ends at Grey's Monument, is one of Newcastle's most attractive shopping streets. The thoroughfare and the area around it, Grainger Town, are named after Richard Grainger, the architect behind the rebuilding of the city center between 1824 and 1841.
Here, you'll also find excellent shopping in Grainger Market, established in 1835 and still bustling with over 100 vendors selling food and other goods.
Address: Grey Street, Newcastle-upon-Tyne
7. intu Eldon Square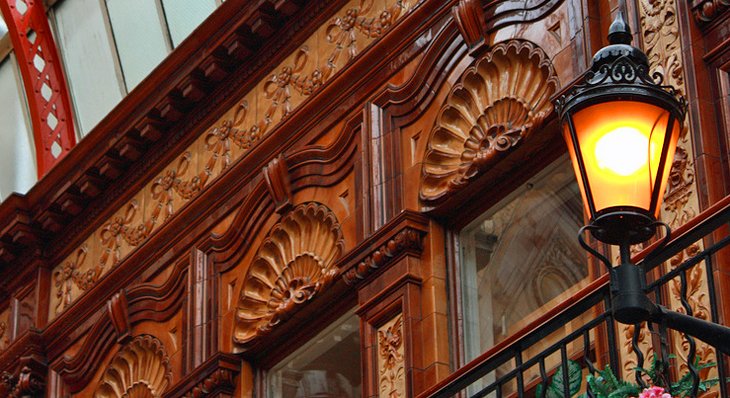 An enormous shopping complex has developed around Eldon Square, comprising the shopping center of the same name, intu Eldon Garden, and the Central Arcade. The area has numerous passageways lined with shops, elegant arcades, exclusive designer boutiques, restaurants, and cafés, as well as a number of fine antique stores on Vine Lane. All are ideal for exploring when a little retail therapy is needed.
A short distance to the west of Eldon Square is a Chinese district around Stowell Street that is famous for its excellent restaurants. While there, visit Newcastle's old medieval Town Walls, now restored, as well as 13th-century Blackfriars in Monk Street, which houses craft workshops and a restaurant.
Address: Eldon Court, Percy Street, Newcastle-upon-Tyne
Official site: https://intu.co.uk/eldonsquare
8. Laing Art Gallery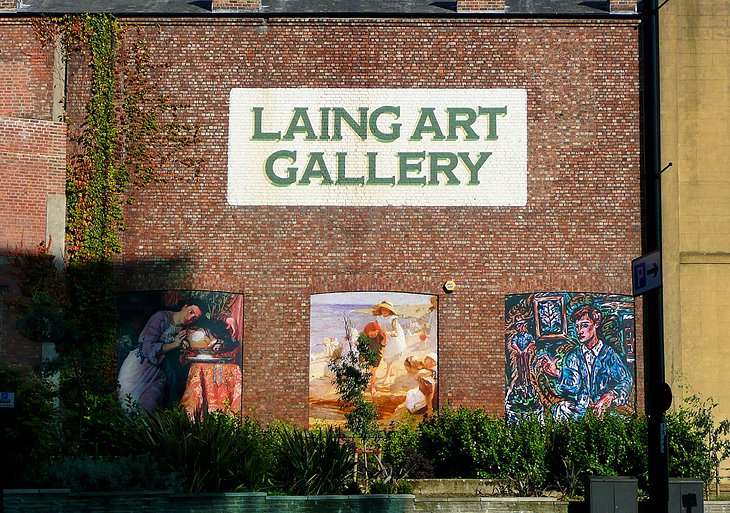 The Laing Art Gallery was built in 1901 and contains an extensive collection of paintings and sculptures, including work by Gauguin, landscapes by John Martin, and paintings by 20th-century British artists like Stanley Spencer.
It's also home to sculptures by Henry Moore and decorative arts from the 16th to 18th centuries, including silver, glassware, and ceramics. The gallery also hosts a continuous program of temporary exhibitions and educational activities. A great café is located on site (cream teas!), and guided tours are available.
Another gallery of note is the Hatton Gallery at Newcastle University, which has works by European painters from the 14th to 18th centuries, as well as paintings by modern English artists. A little north from the Laing Art Gallery is the Newcastle Civic Centre, noteworthy for its chimes (based on local tunes) and its statue depicting the Tyne river-god.
The Biscuit Factory, the UK's largest commercial art, craft, and design gallery, is housed in a former Victorian warehouse and includes collections of contemporary fine art, sculpture, and original print. It has also become a popular dining spot thanks to its two restaurants.
Address: New Bridge St W, Newcastle-upon-Tyne
Official site: www.laingartgallery.org.uk
The above information actually from PlanetWare, https://www.planetware.com/tourist-attractions-/newcastle-upon-tyne-eng-tw-nut.htm