Transportation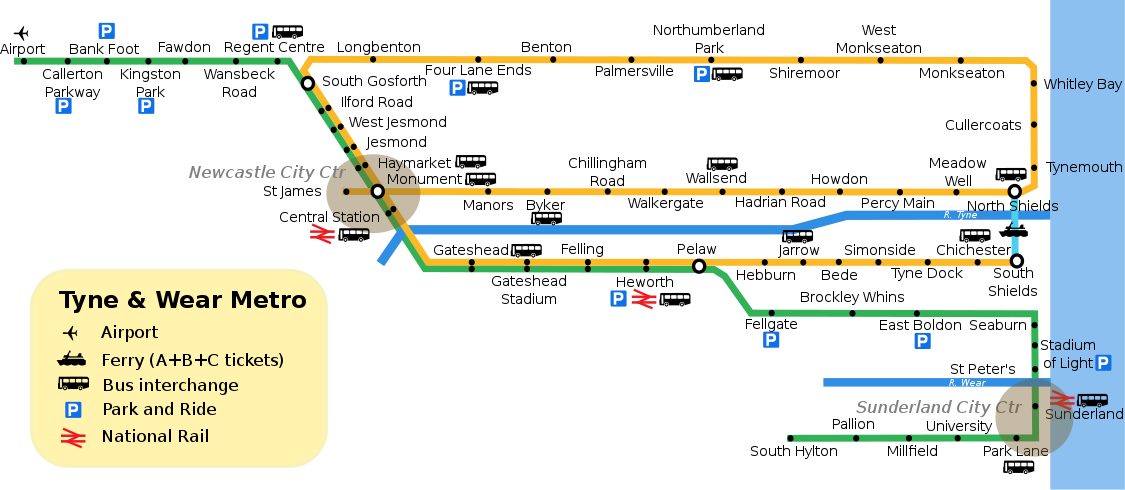 By plane
Travel options into the city centre include:
By train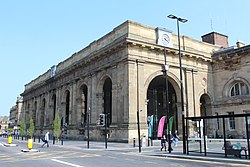 Newcastle Central station
2 Newcastle Central station. Served by three long-distance rail operators:
The local rail network is operated by Northern Rail, with relatively frequent services to destinations such as Carlisle, Middlesbrough, Hexham and Morpeth.
Newcastle Central Station is also served by the Tyne and Wear Metro system, for frequent services into the Newcastle suburbs, and other destinations in Tyne and Wear.
In the UK, tickets can be bought on the day at the station using cash or debit/credit card, but long-distance tickets are cheaper to book in advance. Times and fares information is available from National Rail, +44 8457 484950, or the station booking office.
By car
Newcastle upon Tyne is well signposted from the north, south and west. The city lies at the joining of the A1 (the main East Coast route from London to Edinburgh) and the A69 (a major east-west route to Carlisle and the M6). The A1 bypasses the city to the west.
There are a number of 'park-and-ride' National Park and Ride Directory points around the city to avoid the hassle of parking in the city centre. From these points, the Metro or bus will take you into the city for between £1 and £3. Otherwise, there are over 10,000 spaces in the city centre, though for stays of more than a few hours this may prove expensive. Generally, parking in the city centre costs between £1 and £2 per hour, while parking about 10 minutes walk from the centre will set you back about £0.50 per hour.
By bus
By boat
North Shields, 7 miles east of the city centre, has a daily ferry service to Amsterdam in Holland. Special buses run from the Central Station to the ferry terminal and are charged at £3.50 (one way). Much cheaper are local stopping buses to the Royal Quays shopping outlet down the road or the Metro (15-min walk to Meadow Well station).
Taxis are available from outside the Ferry Terminal operated by BlueLine Taxis and EastCoast Taxis. A taxi from the Terminal direct into Newcastle city centre is £11.50 for up to 4 passengers.
The above information actually from Wikivoyage, for more details, please visit https://en.wikivoyage.org/wiki/Newcastle_upon_Tyne